HPV vaccine expanding to boys from September could prevent over 100000 cancers
| 1
07/10/2019 03:00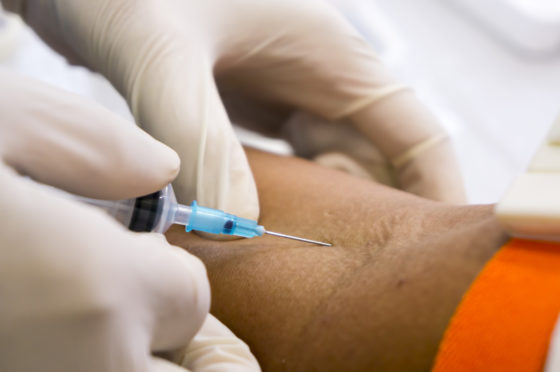 This would be 50 years after the introduction of the HPV vaccination programme in Britain - which began in girls in 2008 - when people who were vaccinated as teenagers might otherwise begin to develop HPV-related cancers, PHE said in a statement.
Estimates from the University of Warwick suggest the vaccine, which protects against the human papilloma virus (HPV), will prevent 64,138 cervical cancers and 49,649 non-cervical cancers in the United Kingdom by 2058.
They will need two doses of the jab in order to be fully protected, with a follow-up dose administered six months to two years after the first.
From September, 12-13-year-old schoolboys will be eligible to receive the vaccine, which protects against the Human Papilloma Virus.
- HPV is thought to be responsible for more than 90 per cent of cervical cancers, as well as 90 per cent of anal, about 70 per cent of vaginal and vulvar cancers and more than 60 per cent of penile cancers.
Currently, ten million doses of the HPV vaccine have been given to young women in the United Kingdom, resulting in over 80% of women aged 15-24 having received it. Data recently published in The Lancet showed an 83% reduction in infections in 15- to 19-year-old girls over five to eight years, with researchers finding "compelling evidence of the substantial impact of HPV vaccination programmes on HPV infections".
Boys aged 12 and 13 will be offered the HPV vaccine in all British schools from September, in a move health officials say will prevent thousands of cancer cases.
According to the US Centers for Disease Control and Prevention, "almost every person who is sexually active will get HPV at some time in their life if they don't get the HPV vaccine".
Figures out in December showed 83.8% of girls completed the two-dose HPV vaccination course in 2017/18, compared with 83.1% in 2016/17 and 85.1% in 2015/16.
"This is a life saving vaccine and I would encourage all eligible boys and girls to take up the NHS offer of the free vaccine".
Mary Ramsay, head of immunisation at PHE, said: "This universal programme offers us the opportunity to make HPV-related diseases a thing of the past and build on the success of the girls' programme". Protection lasts for at least 10 years, although probably much longer. "That is why it's so important to have a universal vaccination program, because it'll not only decrease existing inequalities and normalize this very common virus, but also protect more number of people from developing cancer and save lives", said Jo's Cervical Cancer Trust's Chief Executive, Robert Music.
"It's important not to delay the vaccination, as it may be less effective as adolescents get older".
Extensive reviews of HPV vaccine safety have been undertaken by various independent health bodies/authorities worldwide including the EMA, CDC, WHO and the Commission on Human Medicines (CHM).
That is why gay men up to the age of 45 can have a free HPV vaccine if they visit a sexual health clinic or their GP in the UK.
There are more than 100 types of HPV.
"HPV can affect everyone, it does not discriminate, yet there are still several harmful stigmas and myths that surround it".
Other types of HPV infection can cause minor problems, such as warts and verrucas.
This article has been republished from the following materials.